Blog Archives
Posted on January 21, 2013
Posted on November 10, 2012
Although we couldn't attend ULLR Fest in person this year we were there in spirit and put together a slideshow from last years record breaking winter in Valdez. It's hard to believe how beautiful Valdez is in the winter and how lucky we were to climb, ski and stare in wonder up at the peaks of the Chugach!
Check the slideshow here! –> It's large in size so you may need to adjust the size of your browser: Mac's can (command -) or "view zoom-out" in Safari and Firefox.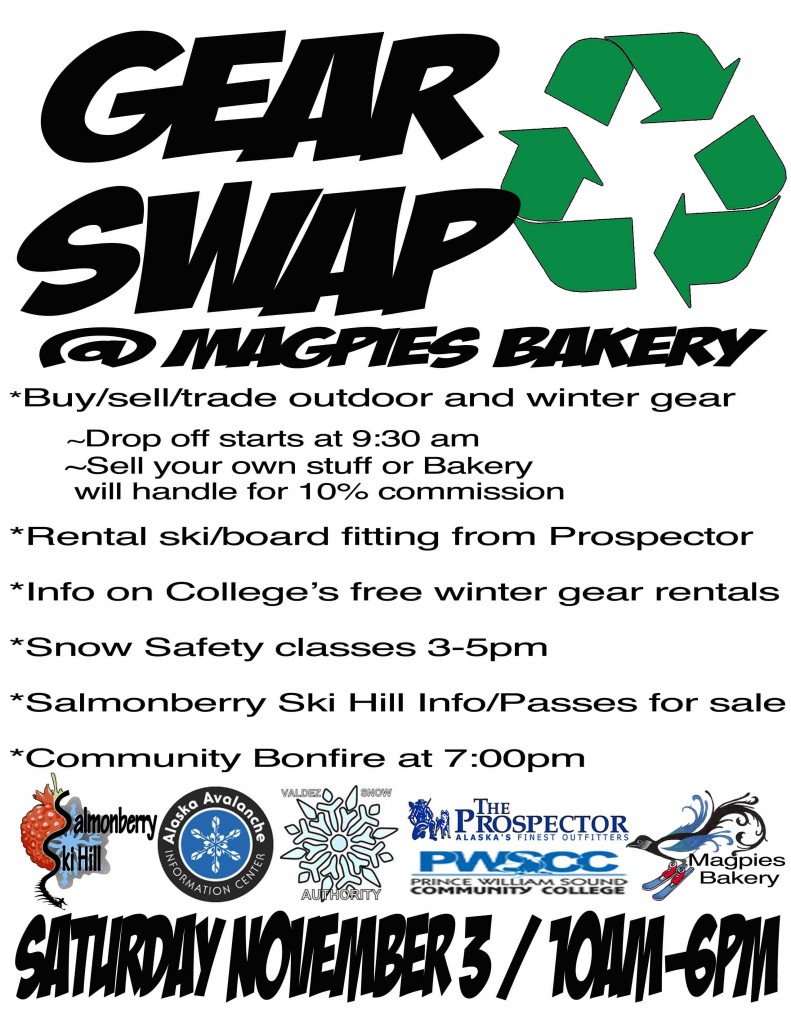 Posted on September 24, 2012
Here is a video of our weekend featuring bouldering in Twin Falls, ID at Dierkes Lake. Robyn and I have been climbing on rope ALL summer aside from one day at Smith and an afternoon at the Buttermilks. Neither one of us would consider ourselves boulderers and the summer of 2009 marked the last time we had actually made a weekend trip for bouldering. On a whim we decided to revisit Dierkes Lake after a brief sport climbing stop there last December. The rock is grippy but easy on the fingers and there is quite an array of moderate climbs with good landings. It turns out a little bouldering was just the change of pace we needed, and we can't wait to bring the pad out again this week to sample more of what the area has to offer.
Dierkes Weekend Bouldering from maowcakes on Vimeo.
Despite the learning curve with the new camera, the lack of power outlets, room, and dry weather, we somehow found a way to snap some great pictures and capture a few videos as well. We spent three weeks living out of our '94 Accord which is now pressing the 400,000 mile mark. Unpack, pack, shake out, dry, unpack, pack repeat seemed to be the motto of the journey. Arriving in Oregon our future after Alaska seemed more real than ever. We were not on an extended vacation.. Even after being raised in the NW the lower 48 seems different than before. Familiar but not quite home. Home is where the bus is, at least at this point, and so for now we are off to find a new place to park for a while.
Posted on December 18, 2011
Posted on November 28, 2011
The Worthington Glacier is a Thompson Pass staple.  Only 15 short miles from our front door the glacier pours out of the high Chugach and down into Thompson Pass.  In the summer it is a popular tourist spot but in the winter it is rarely visited except by the occasional skier.
Strong winds have filled in many of the crevasses but Robyn and I were prepared with ropes and harnesses anyhow should one of us break through a snow bridge.  The snow was soft and the angle was prefect for Robyn to practice her turns.  Plus, it was just freakin sweet to be hiking up a glacier in the middle of the pass on a beautiful sunny day.  It was also the first time I had to try and take my insulin in the field and the -5 F temps made it all the more challenging!  I was inspired to get a quick video of the afternoon put together so check it out below!
Posted on November 21, 2011
The climbing walls within the barn were built over the course of a couple years for a place to train since State College remarkably lacked one, however, the barn is much more than this. It is a place to hangout, let it all go, stare at chickens, enjoy the sunset, talk to Marian, scream at turkeys (R.I.P. Gobbles), have a beer and play with Diva.
Posted on October 11, 2011
On Friday, September 16th, we packed the last of our bags into Trixie and headed out on to the open road. Giddy with excitement, we eagerly charged forward to spend one last weekend at Wookie Wall before the cold weather and snow keep us away for the winter season. We arrived at Wiener Lake around 9PM. We pitched our tent and soon after, called it a night. Early Saturday morning, E and I shoveled down tasty hot cakes and slowly made our way up to Wookie Wall. The approach was slow going and the sun warmed our fair skin just right. On this day, we stopped to smell the fresh Alaskan air, sit atop sun-warmed rocks, and enjoy the colorful view. Knowing this would be our last weekend of climbing at Wookie Wall for the season, we took advantage of every possible moment.
Once at the top, we warmed up. I warmed up on my ongoing project, Seismic Wave, before attempting the send. For the last few weekends, I've come incredibly close to sending this route. Two pinch moves and smeary feet from the anchors keeps Seismic Wave a project, and me coming back. The attempt was smooth. Every move was deliberate and I felt good. Working through the technical crux at the bottom, I could feel the pump, but I pushed forward. With a sweet knee-bar rest, I was able to compose myself and keep my breathing consistent. With just enough rest time, I moved quickly to the top. Pinch, pinch, crossover, move my feet up, I quickly went for the last move — the slippery horn. Slapping my right hand on the horn, too tired and slippery to hold on, I fell. Oh man. One clip away from sending my 8-weekend project and I slipped. Hard stuff and so heartbreaking. Pumped and tired, I lowered off of the climb and decided that tomorrow would be a better day.
We spent the rest of the afternoon climbing a few other sweet routes, one of which E snagged a sweet redpoint on, Spray Gun 12d, only after 4 attempts! Nice work!
That evening, a delicious dinner and a few brews filled our bellies. We went to bed tired, full, and happy! Bright and early Sunday morning, the sun was incredible. The yellow leaves glistened in its rays and the earth smelled of fall. Another beautiful day warmly greeted us as we trekked through the yellow leaves and giant boulders, back up to Wookie Wall. Within a few minutes, my harness was on and I was lacing up my shoes. The sunshine and colors were serene and I couldn't help but wonder how the view from the top would be. Well.. on that particular morning at 8AM, it was beautiful. I chalked up and set off. I sailed through the techy bottom section and crux. I confidently nailed every hold and clip. The route felt so good. I swiftly went from hold to hold and before I knew it, I was at the knee-bar rest. I barely used it. Calm and fresh, I moved ahead, hitting every hold, pinch, and smeary foot with confidence. The next thing I knew, I was clipping the anchors. After nearly 8 weekends of working this particular route, I sent it. In awe of the beautiful view and still surprised at my send, I basked in the sunshine a bit longer, taking in the view and the send.
E slowly lowered me down and I greeted him with a huge smile and bear hug. It was a beautiful day for a great send. I got my send and E got another one of his, a 12a route called Break the Chains. So ecstatic about our sends, we called it an early day. Packing our gear back down to Trixie, we loaded up and set off. We were back out on the open road, only this time, heading toward new territory. We drove about 2.5 hours north to a small town called Talkeetna. Here, we sipped on delicious brews from Denali Brewing Company, reminisced about our sends, and chatted excitedly about our up and coming special day… our wedding! Yipppeeeeee!
Ethan on Seismic Wave

the first moment I grabbed hold of this super smooth and beautiful route, I knew instantly… I knew that this route would be one of my summer routes to thrash on, work hard on, and love every minute of it, and after a few weeks of working out the moves, I nabbed the SEND! Saturday was a such a glorious day… so sweet and it felt so good.
this pretty route has challenged me as a climber in more ways than one. in fact, probably more than any other climb to date. it has not only made me a stronger climber — physically and mentally, but it reminds me of why i love to climb.  this climb, named sweet n' sour by us, because we couldn't stand to leave it as an 'Unknown' — is short, sweet and stout. very pumpy and sustained climbing, as you may be able to spot in Ethan's rad video below. On another note: what a guy — belayed me, was super supportive, and even captured some sweet video shots to create the spunky video. thanks, e! sooo.. on to share the PSYCH! I was so incredibly focused and stoked to lace up and get back on my route on Saturday, that I did just that! first climb of the day and here's how it went — the first two bolts are relaxed and relatively easy to clip. the first pumpy crux falls between the third and forth bolt. after clipping the third bolt and still feeling pretty relaxed, I made my way up some overhanging-slopey side-pulls to bolt number four. bolt four is slightly awkward to clip and very pumpy. (its the kind of pump that starts at the beginning of the route and lasts the whole way through). my hands are still on some slopey side-pulls and my feet are awkwardly dangling below. once I clipped the fourth bolt, I pushed through the pump and overcame some other slopey, vertical holds to a small layback side-pull; just good enough to catch my breath and regain some strength. from there, a stacked two finger pocket with my right hand and crazy pinch with my left hand allowed me to catch a slanted crimp with my right. I then lunged for a smooth, sloping shelf where I was able to clip the next bolt and compose myself before the anchors. during this time, my feet were also on some small, smooth holds, just big enough for the tip of my large toe to rest.  once I clipped the last bolt, my final move was to perch myself on an awkwardly nice ledge, where I rested briefly, and eventually placed my chalky fingers into a decent lay-back crack, walking my feet slowly up the slick rock..  YEAH! I clipped the anchors!!
sweet 'n sour. 5.11b. a beautiful and challenging route that reminds me of why i love to climb — the focus and challenge, the commitment, the psych and sharing the climbing love with friends, and last, but definitely not least, the love for the sport.
so, so awesome. please enjoy rad video below.
keep up the psych,
robyn

Sweet 'n Sour from maowcakes on Vimeo.
Filmed over 4 days during some happy, happy, sunshine in Valdez, AK.
Music: Swept Inside by Future Islands, Dusty Flourescent/Wooden Shelves by Talkdemonic, Red-Green by Laarks, The Wolves (Act I and II) by Bon Iver.