Week two of our El Potrero Chico trip! Cora was a spark plug and arrived shortly after Christmas. She got on some amazing routes and coaxed (forced) us into our freezing cold pool by encouraging us to toss Tecate's in there.. Week two was punctuated by rain.. lots of it. At first it was an annoyance, but looking back it got us into town more, and really added a bunch more learning experiences and cool stories. Cool stories like hitchhiking to town in the back of a small pick-up with 12 (I believe) other climbers hanging on for dear life.. Or hitting up the Friday market to gawk and explore. Or walking into a cool hole-in-the-wall tamale restaurant and stuffing our faces with steaming hot tamales.
Aside from the setbacks, we also had the best climbing days of the trip. When the weather started to clear after 3 days of rain Andy, Steve and I completed a major milestone in our climbing careers by sending Time Wave Zero (5.12a, 23 pitches). We were the only people on the route, and battled adverse conditions and dark rappels, but were rewarded with one of the most memorable sunsets (and climbs) of our lives.
On our last climbing day Robyn, Andy and I set off on Yankee Clipper (5.12a, 15 pitches) and summited via two of the most incredible pitches I have ever climbed. This may have been the single best stretch of climbing on the whole trip, and an amazing way to cap our journey. Without further ado, I will turn it over to pictures and spastic day notes, typed on the iPad during our trip.
Day 6: Merry Christmas! Slept great last night. A shower (cold as hell) last night and the discovery that we have a heater in our room and the long process of assembling the necessities of a comfy bed all added to a great night sleep.
We woke this morning to a light drizzle. Down to the campground after breakfast, we sent a few quick emails and met some Danish climbers. Back to the castle we collected a pile of wood from the adjacent arroyo to cook a wood fire BBQ dinner on. Last night Steve, Andy and I vowed to give Time Wave Zero a go. TWZ is a 2,300′ climb up El Torro and clocks in at 5.12a. This is one of the tallest sport routes in the world.
Since today was a rest day we decided to head up to the base to make sure we knew the way there. Tomorrow we will leave at about 4:30 a.m. to climb the first few pitches in the dark (including an 11b). Once it's light we plan to string together two 5-pitch blocks of trimulclimbing to save time. Of course that all depends on whether the rain that's falling gives us a window to climb in..
As for now we are stoking the fire and getting ready to cook steaks on our awesome wood fire grill that sits in the open air attached to the living room. Andy just threw on some sweet potatoes and the iPad is kicking out Sinatra Christmas. Not bad.
Day 7: Rain today. TWZ will have to wait. The mist is hanging from the cliffs like a scarf. The sky is grey and still. We briefly entertained a day at the crag but quickly determined that it was just simply too wet. Instead we walked into town to El Búho, a local coffee shop run by climbers. This place had some serious character. Paintings, drawings and several other depictions of owls coated the walls. My favorite was a mural of an owl riding a T-Rex. The baristas were two younger girls from North Carolina and Virginia that had come down to work and had only been there for 3 weeks.
Andy met some cool folks outside and was quickly recruited into an impromptu jam session involving beat boxing, a guitar and singing. The rest of us enjoyed a warm cup of coffee and a bit of surfing the net.
After coffee we struck out to explore the city. Rough around the edges, but full of friendly people, Hidalgo has certainly seen its heyday come and go. Built around a cement plant, the global recession and subsequent selling of the plant to big business has dried up the local economy. Today most residents commute to Monterrey for work.
We ventured down to the town plaza, withdrew some cash and ate lunch at Hidalgo Tamales. The five of us stuffed our faces with fresh, hot tamales for a total of $10 USD, although I accidentally tried to pay them $100…
Tonight is shaping up to be pretty mellow, although we bought some different looking beer that tastes exactly the same as all the others we have had. A highlight is that the label has a lady with a unibrow on it and while walking home a police car rolled by and we smiled, waved and swigged our beers as they passed. They rolled down their window, slowed and returned our smiles as they went on their way.
Hoping for a weather window tomorrow but if nothing else, the next day seems like it should clear again for the remainder of the trip.
Day 8: falling behind. Seems like the days are starting to run together. Third day in a row that we have woke up and looked outside to determine whether or not we were going to climb TWZ or not. Strike three. Today is the Friday market in Hidalgo so we decided to cruise back to town to scope that out. There is just about everything at these markets. Two narrow streets bordering the cemetery are slammed with people and tarps covering tables of various trinkets, watches, produce, porn, shoes, kitchenware – you name it. On one street people line up for a block to get to the food tent. Delicious looking rolls of dough were being smashed, twisted and cooked.
Cora arrives! A seasoned world traveler, Cora was the least dazed looking of all of us when she arrived. Flights all seemed to go well and as soon as she got here we rolled down to get dinner at La Posada. This is an interesting place. It reminds me of Miguel's (Red River Gorge) in a way. No matter where you are in the world there is this comfortable familiarity that develops around a community of climbers.
Day 9: Time Wave Zero. After looking all over the web for a weather forecast I could agree with we decided to go for it. As long as it wasn't actively raining, Andy, Steve and I were going to give Time Wave Zero a shot tomorrow. Let alone the fact that this was the longest route any of us had attempted (23 pitches and ~2,300′) and that there was a 5.12a waiting at pitch 21, we were also planning to climb it as a group of three which would afford us very little downtime and required a few advanced techniques as we climbed.
4:00 a.m. -raining. Shit. The route would be wet. But the weather seems to be lifting a bit.
6:00 a.m. We are up and nervously eating bowls of oatmeal and swigging coffee in the dark. Illuminated by the red lamps on our headlights we sat quietly. Cora was asleep on the floor in the living room.
Sweat. The relative humidity was 100% and at times we couldn't see the massive wall directly to our right despite being able to throw a rock to it. Hiking through the mist we passed the spires and climbed to the surf bowl where the first pitch sat, mostly damp, but downright dripping wet in places. Steve took the lead and strung up the runout 5.7 and we were on our way. One of the greatest unknowns awaited us at the second pitch. A 5.11b crests a pocketed headwall adjacent to the surf bowl and a glistening water streak covered the last 4 bolts, crux and anchors.. As the wall steepened, the climb drew me to the water streak. The holds were soaked, and some had pools of greasy mud. The crux. Pulling up to a hand match on a wet rail, a long lock-off guards a sinker 3 finger pocket. With three days of rain, no sign of chalk and little traffic I was relieved to latch into this hold before crossing through and clipping the chains.
Andy led the next pitch, a wet 5.9, and from there we trimulclimbed the next four to the top of pitch seven. Here there is a 3rd class section that leads to the main headwall. The next 12 pitches were a blur of linked pitches and another section of trimulclimbing a block of five. This trick was really the secret of our fast 3 person ascent. Thrown in for spice were a couple of 10+ pitches with exposed and runout moves. All the while, the soup we had been climbing in had started to thin, and occasionally we were offered expansive views of the surrounding mountains. Near pitch 15 the clouds turned a brilliant white, and the sun popped through. The light was angelic as we climbed in a bright white bubble up beautiful featured stone.
After the two hard 5.10 pitches we took a lunch break at the base of the 5.12a pitch. Steve braved the first attempt, found some beta and hung the draws. 5.12 is a lot harder when you have already bagged 20 pitches on the day. I went next, and got the flash. Andy followed, and we were on our way to a free ascent of one of the longest multi-pitch routes in the world.
Day 10: Single pitchin'. The weather today was absolutely perfect. Cool and crisp in the morning, dry rock. Light breeze and plenty of sun. We spent the day single pitching at the Central Scrutinizer crag which is right off the road. Sunday's are a big family party day in Mexico, and everyone was out in full force.
As Robyn entered the crux of her flash on Gringo Disco (5.11b), a carload of soccer players rolled up in a minivan bumping Ice Ice Baby by Vanilla Ice, followed by Elvis and then the Mexican top 40. Some locals seem to love to bump their stereos through the canyon, hang and socialize in stark contrast with others on horseback. Got some cool photos of Cora today. Also scared some nearby climbers with Steve's "Best belayer of the year award" in which he had a margarita in hand, a harness too small and said things like "here's a fun fact, I've never used a cinch before.."
Day 11: RRRRAAAAAAAAIIIIIIIIN. harder than ever today. Walked to town, and the coffee shop was closed. Hit up the market to restock on supplies before heading home. We had a good group chill-and-read-with-coffee session back at home before hilarity ensued. In order to guarantee that we get in the pool at some point on this trip we tossed four 22 oz Dos Equis in as we walked by… A few beers later and it was swim time.
The rest of the night consisted of general hilarity around games of pool and getting high scores on an iPad game. Rain again in the forecast for tomorrow..
Day 12: More rain today but it's New Year's Eve! What a stark contrast from last year's Las Vegas Strip experience. This year we had a holiday feast at La Posada. It was incredibly delicious! The night was already a success.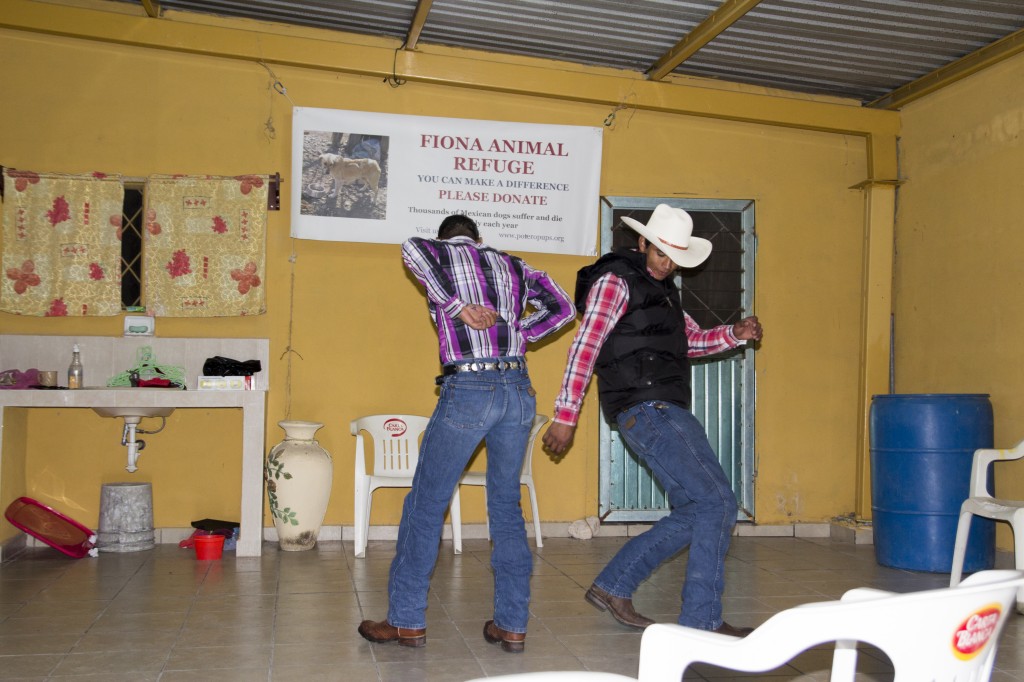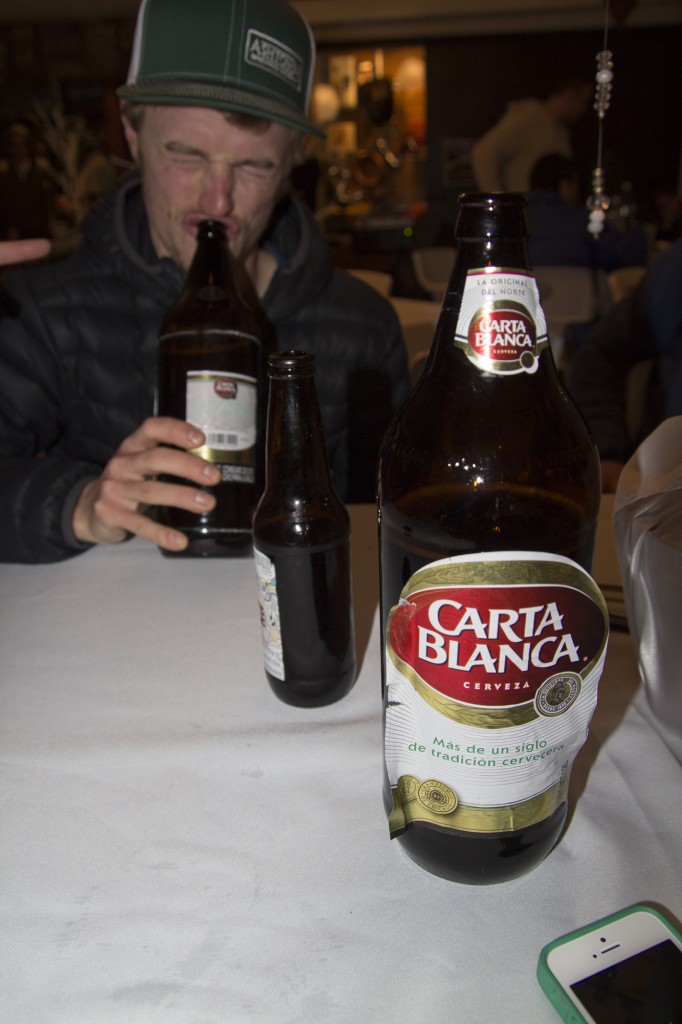 Across the street, two parties were going on. One was a raffle to help support the local animal shelter potreropups.org and the other was the local gear/margarita guy who set up his trailer and a bonfire in the adjacent lot. Edguardo sold gear and margaritas from a trailer he towed to the base of the crag each day. He also blares techno through some huge speakers. When the clock struck midnight people ran and jumped the fire, we took random fog shots and danced our way home to the castle.
Day 13: Spires. Slow start today since we didn't get to sleep till 1 am. The rock is slowly drying and we decided to check out some lines on the south side of the spires. Cora got on Sunnyside Up (5.9) one of her favorites of the whole trip, as well as Easy Over (5.10d) marking the hardest route she had ever tried. Easy Over was a great route. Long and varied up the southeast face of the Grand spire. Next we climbed Young Crankenstein (5.11d) and Aspire (5.12a). Aspire was a real standout of the trip. At 165ft, it was a monster pitch that led from the ground to the very summit of the Grand Spire in one long push. It's hard to get a better position, and what a finish. The crux involved some thin clips and a Techy crimp sequence at mid height.
Day 14: Yankee clipper. Hard to say enough about this route. Yankee clipper (5.12a) is a 15 pitch work of art, climbing a proud sweeping line to the summit of Garza Peak (sp?). Andy, Robyn and I were up and at the base before first light but still managed to be slightly behind the first group. The first three pitches were still really wet, which made our trimulclimbing a bit of a spicy adventure, but once past those pitches we enjoyed some of the best pitches of the trip. Extremely featured limestone jugs for hundreds of feet.