Trixie turns 400,000 on the odometer as we roll into another 30 mile long straight stretch of Nevada desert. A few curves, a slight rise in the road, and then its straight again flanked by Joshua Trees and Yucca dusted with snow.
Saying goodbye to Will, Cora and Ben in the final days of our stay in Red Rocks, NV carried with it a feeling of closure to the year in a way that no date on the calendar seemed to evoke. You would think these feelings would present themselves during our move to Hailey, or parking the bus at our new home, the supposed end of the world, the solstice, or the New Year but these dates came and went, just as yesterday and the day before.
Rolling up our tent I glanced at the old Miguel's campground tags, remnants of spring break and Thanksgiving trips to Kentucky in 2009. This time as I carefully brushed the desert sand from the ground cloth after each roll, I new the climbing season had ended and with it the common thread of the last 8 months. As it turns out, it isn't the calendar that represents closure to one chapter and the beginning of another and the fireworks we watched from the strip in Vegas didn't bring about any pensive moments of reflection on the year past. Instead these feelings came flooding in as Trixie filled with the gear of summer: ropes, draws, campstove, packs and climbing shoes.
I check the temperature back home in Hailey. It's 10 F and looks as if it will drop well below 0 F again this evening. The car still smells of wood smoke and climbing rope as we continue north and relive favorite climbs, hikes and stories.
Robyn sent an impressive (5.11a) on Cannibal Crag called Baseboy Direct which follows a dainty and technical line straight up the center of a featured red face. Will sent his 4th 5.12 ever and his first in over a year with an ascent of Maneater (5.12a). I had a couple memorable ascents as well including Soul Power (5.11d) which powers through a bouldery start to a poor rest and keeps with you through the remainder of the climb with small and technical edges right to the chains. Although the logistics of a multi-pitch wall never quite lined up, we had two amazing days of single pitch gear climbing. Robyn led her first ever gear routes, beginning with a few pre-placed pieces and on our second day all on her own with an onsight ascent of  Zen and the Art of Web Spinning (5.4) at the Brass Wall. I got more experience with true crack climbing with flash ascents of Straight Shooter (5.9 fingers) and Scalawag (5.10b) an imposing roof crack that starts with hands followed by fists and pulls the lip after 15 feet of near horizontal jamming.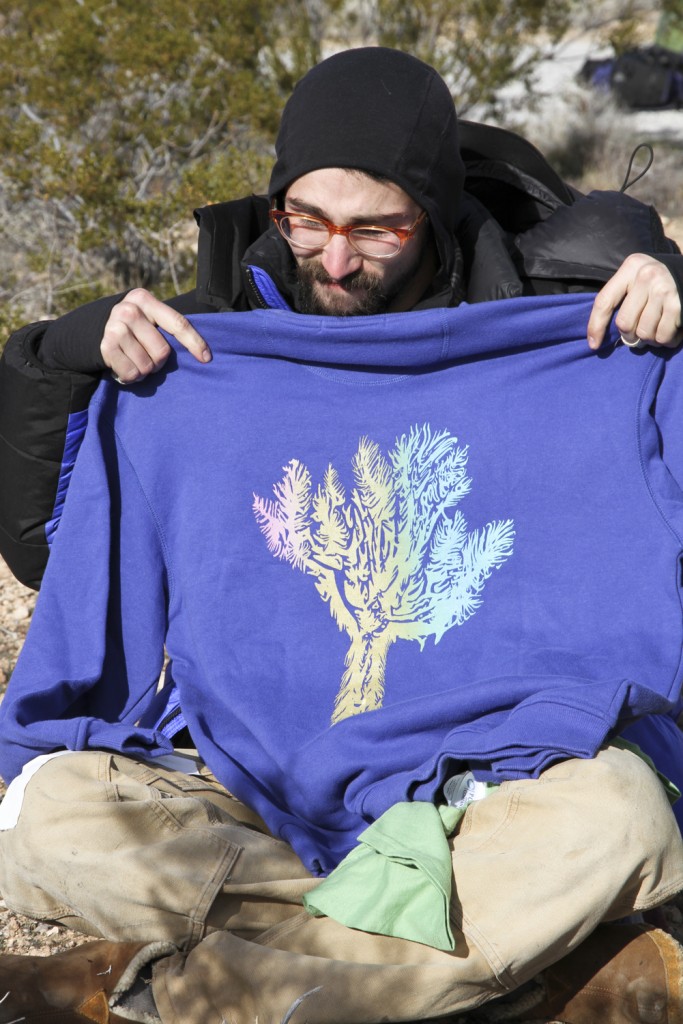 Christmas morning brought a thoughtful gift from Will, a memento from their time in Joshua Tree.
More than the climbs however, we will remember the great time spent with awesome friends. When we arrived late on Robyn's birthday (Christmas Eve) we were welcomed to a warm fire by Will, Alf and Kassy. On Christmas morning we had a big breakfast, decorated a bush near camp and handed out presents under a warm desert sun. Later that week Ben joined us from Salt Lake fresh off one of his last days of work at Nexus and looking forward to his new career with Black Diamond. The next night Will went to the Greyhound Station to pick up Stu who was passing through en route to California and eventually Hawaii. Early on New Years Eve, Cora flew in and brought her usual enthusiasm and high spirits to add even more good energy to the group.
The sun is low in the sky now, casting long shadows of sagebrush over what could be the straightest stretch of road yet. Four more hours and we are back to Rupert, the Bus, groceries in Twin and then on to Hailey where the next season truly begins; ski season. It's strange to think how influential your life's passions are.  By finding that activity that serves as a way to interact with the world, to travel and better understand it.  Climbing encouraged us to travel the west and as we shift into winter, backcountry skiing will lead us into the Sawtooth's, to early morning skin tracks and steep descents among the granite peaks. It will push our lungs as we ascend and clear our minds of everything but the smell of the pine and the reward of powder turns back to the car. I guess it really is a cycle. One thread ends and the other begins only to bring us back again, always eager, anticipating the season to come.