Holy Schmoly! Valdez has been a delightful and crazy whirlwind of activity and fun! Let's see, where should I begin? From the beginning!!Welp, we finally made it to Valdez and have been settling in nicely. The family we currently live with has been on vacation for the last two weeks and we've been 'manning' the house, feeding the chickens, watering the plants, and mowing the yard for them. It has been great! We've seen so many new things and have learned so much, it's a bit overwhelming, but nonetheless, still very exciting.
One of the first outdoor adventures we enjoyed was a hike up and around Worthington Glacier. We strolled up to this gigantic glacier off of the Richardson Highway, only about 12 miles from our house, and frolicked through its glacial runoff and rocky sediment. We slapped hands and gave this vibrant blue glacier a rub on its top!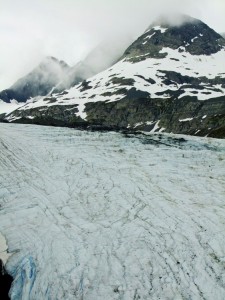 It was absolutely incredible to see and touch. Later, we strolled up the high, rocky moraine to catch a beautiful view of the surrounding snow-covered peaks and frosty glacier. It was super! We were so stoked on the hike and scenery; we quickly made plans for another Valdez adventure.
The very next day, we drove aimlessly toward Blueberry Lake, just 15 miles from our Alaskan home. We've heard small talk from several folks about some rock climbing around the lake and so we decided to explore the area for ourselves. JACKPOT! Way up high, on some bluffs above the road, Ethan spotted some anchors and bolts! WAHOOO! There were definitely sport routes to be climbed and that's exactly what we did. We wasted no time. We pulled on our harnesses and wedged our feet into our climbing shoes! It was awesome! We climbed a few routes before calling it a night, however, on our next dry day, we plan to finish our newly found sport routes and comb the area for more fun rock to climb.
After several days of hiking new trails and rock climbing on sweet routes, we've also squeezed in a 20-mile bike ride to the Valdez Terminal, where we spotted our first Alaskan Brown bear and three cubs. These beautiful animals have been roaming about the rivers in Valdez, eagerly waiting for the Pink Salmon to spawn and run the rivers.
They are definitely not the only creatures fishing for salmon either. Hundreds of locals and tourists join the bears. In fact, while I was at work, Ethan went fishing and caught 11 nicely sized salmon for us to freeze and/or smoke and can for the winter! We've grilled a few and they are tasty! As of now, we are planning a kayaking trip for our next big expedition. We hope to paddle our kayaks out to the tip of the Valdez glacier, snag some radical photos, build a beach fire, and enjoy some yummy dinner. I predict, like our previous adventures, this one too will be top notch.
Anyhoo.. I think that's it for now. Enjoy the new photos and check back for more on our kayak trip, and my new job at Magpie's Bakery!